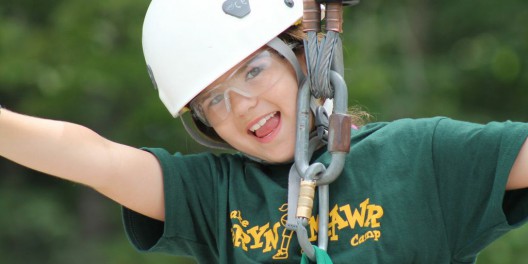 At Lake Bryn Mawr Camp, "beauty" is more than skin deep — and "safety" is more than just preventing injuries
Safety first — that's the policy of every good summer camp. When parents send their children off to camp for the summer, they're placing their trust in the staff to make safety the top priority. From qualified lifeguards at the lake to an experienced health center staff, every camp takes steps to make sure campers stay physically safe. But what about emotional safety?
At Lake Bryn Mawr Camp, our approach to safety goes beyond bike helmets and shin guards. We have made it a priority to make sure camp is a safe place where each of our campers — more than 300 girls ages 7 to 15 — can feel free to express herself in ways that are healthy and appropriate. Alongside top-notch instruction in sports, arts, adventure and aquatics, we help our campers build their skills in communication, empathy and problem-solving. The result is a camp community where girls are encouraged to build healthy friendships and empowered to feel comfortable being themselves.
So what is it that makes Bryn Mawr a safe place for campers' bodies and hearts?
A focus on values. Life at Bryn Mawr is governed by a set of values called the Angel Code: Loyalty, Beauty, Merit and Comradeship. From the oldest senior campers to the smallest girls on campus, each Bryn Mawr Angel learns the Angel Code by heart and can explain what these values mean. The Angel Code is one of the first things campers learn at Bryn Mawr and one of the most meaningful lessons they take away from camp and carry with them all year round.
Thorough staff training. Our positive camp culture starts at the top with directors who truly believe in our mission and give our staff the tools to make camp a positive experience for every girl. We empower our counselors, group leaders and program directors to provide excellent instruction and the highest level of safety — and that includes emotional safety. All of our employees receive intensive training in problem solving, leading by example, and positive role modeling, and we continue helping staff members develop these skills throughout the summer.
All-girls environment. Of course we love our brothers, nephews and sons — but there's something really special about the all-girls environment. In the lower pressure of the single-sex setting, campers feel comfortable and free to try new things, and when it comes to activities, the focus is on new experiences, doing their best, and having a wonderful time. That translates to building new skills and making the most of their summer, their opportunities and their friendships with their "summer sisters."
Camp uniform. Speaking of social pressure: Bryn Mawr is a full uniform camp. It's an important part of our camp culture. When campers all have the same clothes, the focus is off appearances — what a girl wears, has or looks like is far less important than who she is and how she treats others. As we say in the Angel Code: "Beauty is in more than skin. Beauty comes from deep within." And at Bryn Mawr, we think there's nothing more beautiful than a girl who tries her best, embraces her opportunities, and treats others with care and respect.
Want to learn more about Bryn Mawr, our culture and values, and what makes us special? Follow our camp blog to read about how we work to make camp a place where every girl can feel comfortable being herself, trying her hardest, and making friendships that will last a lifetime.
Quick Links:
Learn More About Lake Bryn Mawr Camp By Visiting CampBrynMawr.com
Ready To Book A Tour, GREAT! Click Here or Call 1-888-526-2267
Want To Work at LBMC? Learn About The Staff Experience!
Check Out Lake Bryn Mawr Camp's WCCA Profile