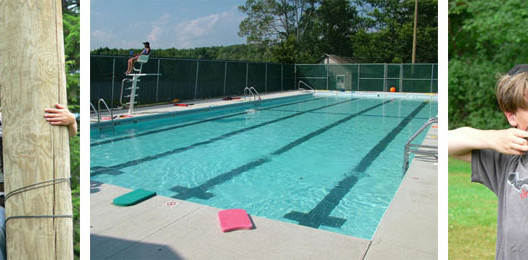 Now in its 20th year, Camp Nesher continues to set the standard for excellence in Modern-Orthodox Jewish Summer camping.
Camp Nesher is for children entering 3rd – 10th grade and offers sessions from a full seven weeks to a five – day short stay trial for younger campers with several other offerings in between. Whether is be a summer of sports, arts, aquatics or adventure, Camp Nesher offers it all in a choice – based program that allows campers to switch things up every two days – love it and sign up for it again – like it less, choose something else from the vast array of specialties offered.
As a practicing Jewish religious institution, minyanim happen three times daily along with one daily chinuch session, age appropriate for each individual division of campers. Shabbat is something special, including a unique ruach – spirit – rarely found in summer camps today.
Camp Nesher's athletics fields and courts are second to none, highlighted by Beit Nate, a domed and lit complex including a hockey rink and three regulation basketball courts. Art lovers have diverse offerings in several shops that include ceramic hand – building, woodshop and much more.
A Camp with something for everyone, please consider having both you and your children join the Camp Nesher family!
Please reach us during the Winter at (973) 575 – 3333 x111 and during the Summer at (570) 798 – 2373. Email us at any time at [email protected]
Learn More About Camp Nesher By Visiting CampNesher.org
Ready To Book A Tour, GREAT! 973-575-333 x 111
Want To Work at Camp Nesher? Learn About The Staff Experience!
Check Out Camp Nesher's WCCA Profile